I'm Sick.
And food doesn't sound that great to me right now. But I just got a call from my Mom who was praising the folks who have been kind enough to bring she and my Dad dinners on a regular basis since she had surgery last week. She hasn't felt like eating much, but someone brought her Chicken Divan casserole. And that was starting to sound pretty good.
Something to note: My Mom makes the best Chicken Divan on the planet. Everybody's Mom probably does, but just hearing her say the words made my infirm palette get a little drooly with the memory of her comforting , warm and creamy dish. Without much energy to spare, I decided to try and fudge her recipe a little and cut a few corners. I really want that comfort food, but I don't really want to spend more than 20 minutes in the kitchen. I rummaged around, found a few things I knew would be OK substitutes (OK, OK, canned soup IS one of the subs and I know I've said in the past I'm not a big fan but…) and dinner was in the oven in 10 minutes flat.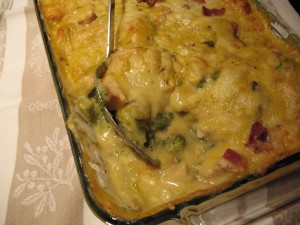 Fast Chicken Divan with Rice Pilaf
Serves 6
3 chicken breasts diced and cooked with a little olive oil
1 package (10 ounces) broccoli spears, cooked and drained
1 26oz can (Family Size) Cream of Chicken Soup
1 10oz can Cream of Mushroom Soup
1 tbsp lemon juice
1 tbsp cooking sherry
1 tsp nutmeg
1/4 cup shredded Swiss cheese
2 slices of uncooked bacon, chopped
salt/pepper to taste (Remember, the soup already has a ton of salt!)
1. Stir the broccoli and cooked chicken into a 8×11″ Casserole dish
2. Whisk soup, lemon juice, sherry, nutmeg and salt and pepper together in a bowl
3. Pour mixture over chicken and broccoli and stir in
4. Top with cheese and bacon
5. Bake at 350 for 25-30 minutes or until bubbling and brown
6. Start the Rice Pilaf and it should be done by the time the dish is out of the oven.
Mom's Chicken Divan Recipe
Serves 6
4 cups cooked chicken, diced
1 package (10 ounces) broccoli spears, cooked and drained
Sauce:
2 tablespoons butter
2 tablespoons flour
2 cups chicken broth
salt and pepper, to taste
1/8 teaspoon nutmeg
1/4 cup Parmesan cheese
1 tablespoon cooking sherry
2 egg yolks, lightly beaten
1. Layer the chicken and broccoli in a casserole dish.
2. Make a roux by melting the butter in a saucepan over low heat and stirring in flour until smooth and well blended.
3. Remove from heat and gradually stir in the chicken broth. Place back on heat and slowly bring to a boil, stirring continuously.
4. Simmer for 1 minute then stir in salt, pepper, and nutmeg. Remove sauce from heat add Parmesan cheese and sherry then stir in the slightly beaten egg yolks and bring to the boiling point again.
5. Pour over chicken and vegetables in the casserole dish. Bake at 350 for 20 to 25 minutes, or until bubbly and browned.
Feel better,
Gal Foodie