It's one of my favorite food-oriented events, St. Patrick's Day. It's also a "holiday" that makes me laugh at my own country, because only us Americans celebrate it with a fervor not seen since the Gladiators entertained Rome. It's our big excuse to leave work early and show back up the next day with a story about playing pool with a deaf man in zooba pants and a raging hangover (well, I guess St. Patrick's Day has stiff competition with Cinco de Mayo). And of course, everybody is Irish on St. Patrick's Day.
I'll admit it. I've had my share of pub crawling on this very day – dodging work, wearing green and sporting a button or two declaring my desire to be kissed based on my heritage. I am, in fact, quite a bit Irish. My red hair, freckles, pale skin and name are the first giveaway – and a black and white photo of Nana Murphy on the lap of my Great Grandparents, fresh off the boat from Roche's Point, has led me back to County Cork once already in my lifetime.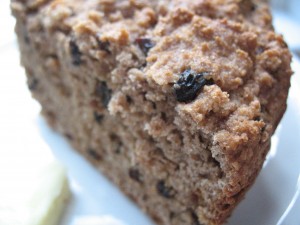 Alas, lassie, since we're all a little Irish today it would only be fitting to drink a little Guinness and bake a little Irish Soda Bread. This is one of my favorite family recipes. I got it from my cousin Molly, who got it from her mother, Sara, who got it from her Grandmother somewhere in between County Cork, Ireland and Boston, Massachusetts. I've modified it slightly to be a little healthier and heartier (at this I give you the mischievous look of a leprechaun who just told you a tricky limerick). And suggest it be eaten warm, and completely saturated with sweet cream butter.
Murphy Family Irish Soda Bread
5 tbsp unsalted butter
3 cups whole wheat flour
1 1/2 tsp salt
1 tbsp baking powder
1 tsp baking soda
3/4 cups sugar
1 cup dried currants
1 3/4 cups buttermilk (No buttermilk on hand? See my cool sub below)
2 eggs, well beaten
1 tbsp caraway seeds
Directions
1. Smear 1 tbsp butter evenly in a 10″ cast-iron skillet. Line the buttered skillet with wax paper. (The skillet is pretty important here, but a round baking pan will work)
2. Sift dry ingredients together. Add currants to dry ingredients and toss well to coat.
3. Melt 2 tbsp of butter and whisk together with buttermilk and eggs. Add to the dry ingredients, along with the caraway seeds, and mix just until blended, being careful not to over mix.
4. Spoon batter into the skillet and dot the top with remaining 2 tbsp. of butter. Mmmmm. Butter.
5. Bake at 350 for about 60 minutes until golden brown. Cool slightly before removing from skillet and cooling completely on a rack. Or, cut it into wedges and serve it warm. With lots and lots of butter.
Buttermilk Substitute: Instead of using real buttermilk, which can be hard to find, and harder to use up if you don't need much, try this: Add 1 tbsp of white vinegar or lemon juice to a cup of milk and let it stand for 5 minutes. I used this trick with skim milk for my bread today and it worked great. You'd never know the difference! (Although I wouldn't dare you to drink it straight!)
I needed to speed this recipe up today to expedite to the eating part, so I threw the wet ingredients into my KitchenAid Professional 600 Series 6-Quart Stand Mixer and whisked them well, then changed to the paddle and tossed in all the dry ingredients, starting with the flour. I mixed on medium speed until just combined and then spooned it into the prepared skillet. It came out just as good as it always does, but I could sense my Grandmother rolling over in her grave because I didn't sift…
Today, may the road rise to meet you feet first. And for the sake of tomorrow, stick to overindulging in the soda bread. It's good for you.
~ Gal "Ali" Foodie