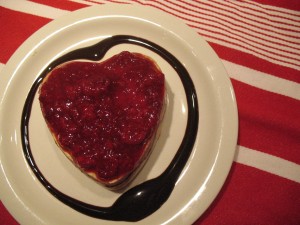 From the outside looking in, my Valentine's day was nothing special. I spent it cleaning the bathrooms, doing laundry, and making a marketing plan for my client Rossi Pasta. Not exactly a whirlwind trip through the streets of Paris.
But from the inside, it was warm and fuzzy, and I found as I was pulling together some of the tasks of the day, I was touching items and doing things that had pretty significant meaning to me. I enjoyed 3 cups of my favorite coffee while Ben made me Belgian Waffles covered in fresh strawberries. After breakfast, I did dishes side by side with Ben, just as my grandparents used to do, sharing laughs and to-do lists for the remainder of the day. I took my dog, Asher, for a brisk, sun-drenched walk around Seawall, my favorite part of Mount Desert Island. I returned home to organize, clean and straighten because I love a tidy house. And I made Ben heart-shaped raspberry cheesecakes as a special surprise dessert because I loved the idea of making him something that would make his heart sing.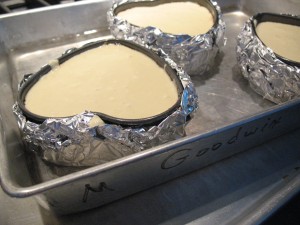 As I pulled together the items I would need, the memories flooded in when my hand grabbed the old aluminum cake pan – my grandmother's pan – with her name scrawled on the side lest it be left behind at a birthday party or a church supper. The pan with the 6 ring marks on the bottom and the perfect water line made by 40 plus years of making my grandfather the custard cups he loved. The pan that made coffee cake every Sunday, and her traditional New Zealand birthday cake for the family she loved. It was now to be the vessel for my love – a water bath for the cheesecakes.
Steal My Heart Cheesecake
Makes 3 cheesecakes for 4″ x 1 3/4″ heart-shaped spring form pans by Wilton
Crust
1 cup graham cracker crumbs
3 tbsp granulated sugar
1/4 cup melted butter
1. preheat oven to 350F. Mix all ingredients and press firmly into bottom of prepared pans. bake for 6 minutes then set aside to cool.
Cheesecake
16 ounces (2 8oz pkgs) cream cheese at *room temp (*VERY important!)
1/2 cup brown sugar
3 eggs
1 1/2 tsp vanilla extract
1 tbsp melted butter
1/3 cup Raspberry Sauce (I used Hannaford's Inspirations brand)
1. In a mixer, combine cream cheese and sugar until light and fluffy. Beat in eggs and vanilla until well blended.
2. Wrap outside of pans in 2-3 layers of foil to prevent water from leaking in.
3. Fill the pans 1/2 full with cheesecake batter. Drizzle raspberry sauce in to make a thin layer. Pour in remaining batter filling to just below top of pan, being careful not to mix it into the sauce.
4. Place smaller pans into a larger pan, and fill until water is 1/4 – 1/2 up the sides of the spring form pans. This is called a ban marîe (water bath). Bake for 45 minutes, or until the centers are not jiggly. Remove from the oven and place directly, uncovered into the fridge. Best to leave them overnight, but OK to eat in a couple of hours.
Topping
1 cup fresh raspberries
1 tsp sugar
1 tsp raspberry sauce
1. Combine all the ingredients in a small bowl, mixing with a fork to break up the raspberries. Let sit for 30 minutes at room temperature to allow the sugar to work its magic on the raspberries (making a nice syrup!)

2. To serve, cover the top of the cakes with the raspberry mixture. I also put a touch of chocolate sauce on the plate for dipping. Best part… Share it with someone you love.
Love.
It's a great thing to have. Especially when you know it's true. Be it the love of a pet, a keepsake, a boy, one thing I'm sure of… When there is love in your world, it's a wholly different place.
~ Gal Foodie
Ahhhh, but what did Ben do for you for Valentine's Day you ask? He spent the day doing something he loves – welding a sculpture for me. And I loved it.